Pay attention to the sound, as you might uncover a secret of existence and find the true Voice of deep inner YOU"
---
Transform yourself with the Sound Meditation of the Gong and Singing Bowls
Gongs are amazing instruments. They generate powerful, intense healing vibrations which, interspersed with the sound of Tibetan Singing Bowls and other instruments, stimulate feelings of peace and relaxation. This allows the release of stress and enhances well-being.

The Sound of Gongs and Singing Bowls opens the gates of Love, so you can connect with all.
The things you create around yourself and realize just how great a power you have to create your own happiness and well-being.
The sound of the Gongs can: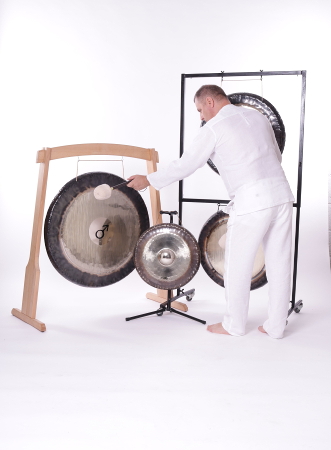 On a physical level
promote deep relaxation
reduce high blood pressure
calm depression and anxiety
relieve chronic fatigue
ease muscle tension
harmonize both sides of the brain
cleanse sinuses
improve sleep quality
increase energy
release blockages from meridians
promote the healing process on a cellular level
enhance well-being
On a mental and spiritual level
increase intuition
awaken our inner beliefs
restore the aura
cleanse the chakras
awaken the 3rd eye
remove painful emotions
make you feel loved
trigger the act of creation and inspiration
release energy blockages from body
stimulate ideas and solutions
bring peace of mind
create a feeling of inner peace
harmonize masculine and feminine energy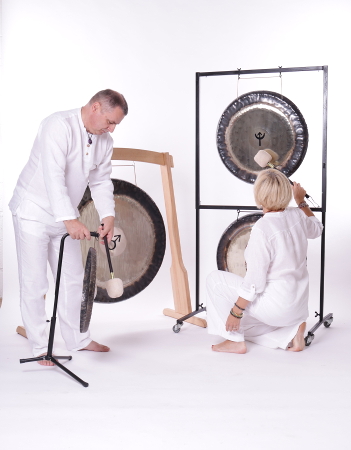 Through connection with sound you become more aware of your own thoughts and emotions and begin to realize your infinite potential, discovering opportunities and talents latent within you.


"Return to Happiness and Spiritualization of Matter " as inscribed on the surface of the Ancient Gong.

"The gong is a sacred threshold. It is the portal that links the finite and the infinite experience of the Self. It is a cauldron in which you can create alchemical blends of qualities that open and develop the Inner Self." Gurucharan Singh Khalsa.

Please note that this event is not suitable for those in the first trimester of pregnancy or those who suffer from seizures triggered by frequencies. If you have any queries we will be very happy to help you.


Beata and Jarek Dzwigol are sound therapists trained by Don Conreaux, Aidan McIntyre, Tom Solton and Abby Del Sol and offer group and one-to-one sessions.
They are frequently invited to play in yoga studios and at private events.
---
Please check how the sound of gongs heals the body's cells 
Please, before any event contact us to book your space at info@ifeelgoodtherapy.com or by phone at 07935651585. Places are limited.

Please arrive a minimum of 15 minutes before the event starts. Late-comers will not be allowed in once the event is underway.

Please wear comfortable clothing. Bring a thick blanket to keep warm, a pillow, a yoga mat and some bottled water to drink.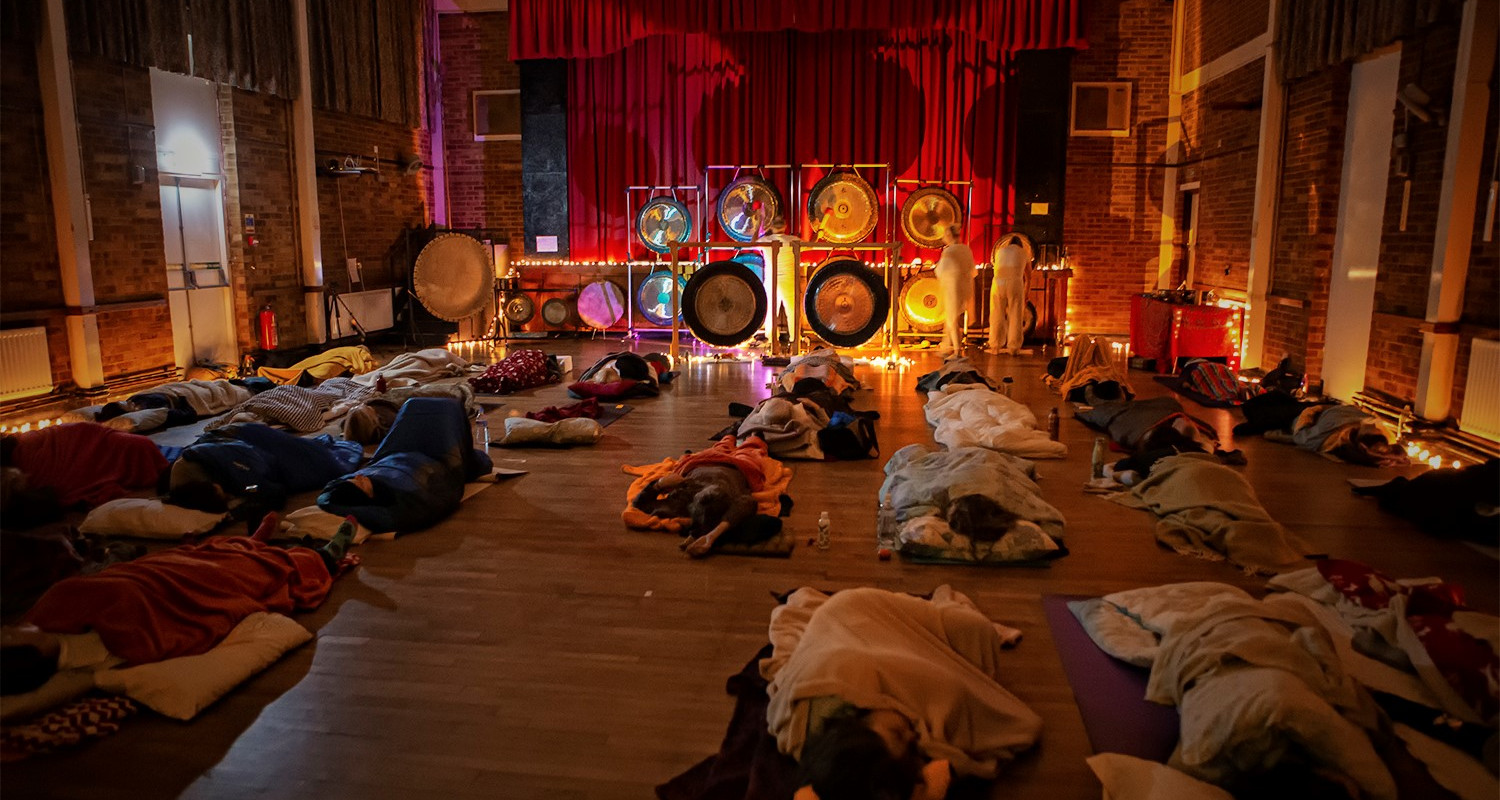 ---
Venue:
DEAR GONG LOVERS

It feels like we have entered a very challenging time but please remember to embrace it with love. We are strong enough to go through this and become even stronger and more spiritual afterwards.

TRANSFORMATIONAL GONG BATH by B&J with the sound of 10 gongs
The Old Woking Community Centre (next to Woking College)
Sundridge Road Woking GU22 9AT
Main Hall , ground floor, free car park
​Dates: The first Saturday of every month, xx 5.00pm - 6.30pm as soon as allowed
​
​RESTORING GONG BATH by B&J with 6 GONGS
The Holistic Center
The Barn, Wiggins Yard
Bridge St
Godalming
GU7 1HW

Dates: The first Friday of every month, xxx 5.30pm, 6.50pm as soon as allowed
RESTORING GONG BATH WITH THE SOUND OF 10 GONGS & OTHER INSTRUMENTS by B&J
Westcott Reading Room
Institute Road
Westcott
Dorking
RH4 3NP

Dates: as soon as allowed
Children friendly. Disabled friendly. Free car park.
​
​RELAXING GONG BATH in Reading
Studio42
1 Chatham Place
Reading
RG1 7 AR

Dates: 26th September Saturday 3.00pm - 4.00pm BOOK YOUR SPACE
GONG IN COCOONS
The Fitness Hangout
​1B Douglas Drive, Off Catteshall Lane,
Godalming GU7 1LG
Dates: 20th September Sunday 1.00pm - 2.00pm fully booked
18th October Sunday booking open soon
​Contraindication & Precaution:
There are a few contraindications like the first trimester of pregnancy, serious mental health problems, epilepsy/seizure.
Precaution:
If you have peacemaker, or recently you are after the surgery, you should speak to us before you purchase your ticket.Children under 10 years old, please speak to us before you purchase the ticket.
Please arrive a minimum of 10 minutes early.
Late-comers will not be allowed in once the event is underway.
As places are limited it is advisable to Book Online to guarantee your place.
Please contact us for further details.
The prices of the tickets has been increased because of highier costs of hiring rooms.
Testimonials:
"Just to say the go g tonight we're amazing I listen to it with a speaker on my shoulder and the vibration was wonderful I could here the birds in my garden my water feature was running and the sound was lovely with the gongs and my cat was lying in my stomach I was in heaven thank you so much" Frances B.


"Fantastic, put through surround sound system, laid on the floor and felt the vibrations. Amazing. Thank you so much. Namaste" Kim C.

"Listened to 7pm Gong Bath this morning. I felt quite a difference with the sounds and vibrations this time. Felt the Gongs were burrowing deeper into my emotions lovely way to start the day. Thank you" Abigail D.

"Thank you for a fabulous session. My daughter and I love these sessions. Our cat loved it too! Absolutely love it! We would also be interested in any day retreats you may have in the future"Ali & Roisin M.
OTHER EVENTS RELATED TO GONGS:
ALL NIGHT GONG BATH - THE PUJA & GONG COURSE & SOUND THERAPY 1:1