Pay attention to the sound, as you might uncover a secret of existence and find the true Voice of deep inner YOU"
---
Transform yourself with the Sound Meditation of the Gong and Singing Bowls
Gongs are amazing instruments. They generate powerful, intense healing vibrations which, interspersed with the sound of Tibetan Singing Bowls and other instruments, stimulate feelings of peace and relaxation. This allows the release of stress and enhances well-being.

The Sound of Gongs and Singing Bowls opens the gates of Love, so you can connect with all.
The things you create around yourself and realize just how great a power you have to create your own happiness and well-being.
The sound of the Gongs can: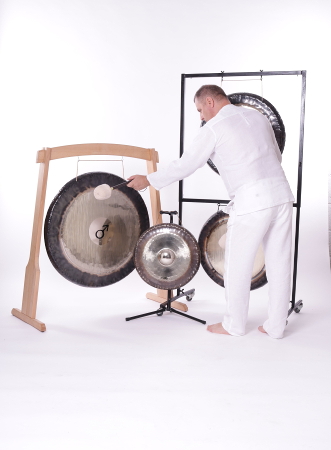 On a physical level
promote deep relaxation
reduce high blood pressure
calm depression and anxiety
relieve chronic fatigue
ease muscle tension
harmonize both sides of the brain
cleanse sinuses
improve sleep quality
increase energy
release blockages from meridians
promote the healing process on a cellular level
enhance well-being
On a mental and spiritual level
increase intuition
awaken our inner beliefs
restore the aura
cleanse the chakras
awaken the 3rd eye
remove painful emotions
make you feel loved
trigger the act of creation and inspiration
release energy blockages from body
stimulate ideas and solutions
bring peace of mind
create a feeling of inner peace
harmonize masculine and feminine energy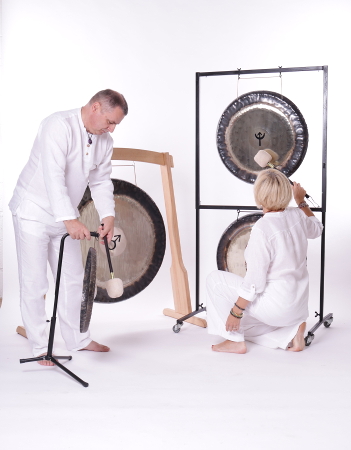 Through connection with sound you become more aware of your own thoughts and emotions and begin to realize your infinite potential, discovering opportunities and talents latent within you.


"Return to Happiness and Spiritualization of Matter " as inscribed on the surface of the Ancient Gong.

"The gong is a sacred threshold. It is the portal that links the finite and the infinite experience of the Self. It is a cauldron in which you can create alchemical blends of qualities that open and develop the Inner Self." Gurucharan Singh Khalsa.

Please note that this event is not suitable for those in the first trimester of pregnancy or those who suffer from seizures triggered by frequencies. If you have any queries we will be very happy to help you.


Beata and Jarek Dzwigol are sound therapists trained by Don Conreaux, Aidan McIntyre, Tom Solton and Abby Del Sol and offer group and one-to-one sessions.
They are frequently invited to play in yoga studios and at private events.
---
Please check how the sound of gongs heals the body's cells 
Please, before any event contact us to book your space at beata.dzwigol@ifeelgoodtherapy.com or by phone at 07935651585. Places are limited.

Please arrive a minimum of 15 minutes before the event starts. Late-comers will not be allowed in once the event is underway.

Please wear comfortable clothing. Bring a thick blanket to keep warm, a pillow, a yoga mat and some bottled water to drink.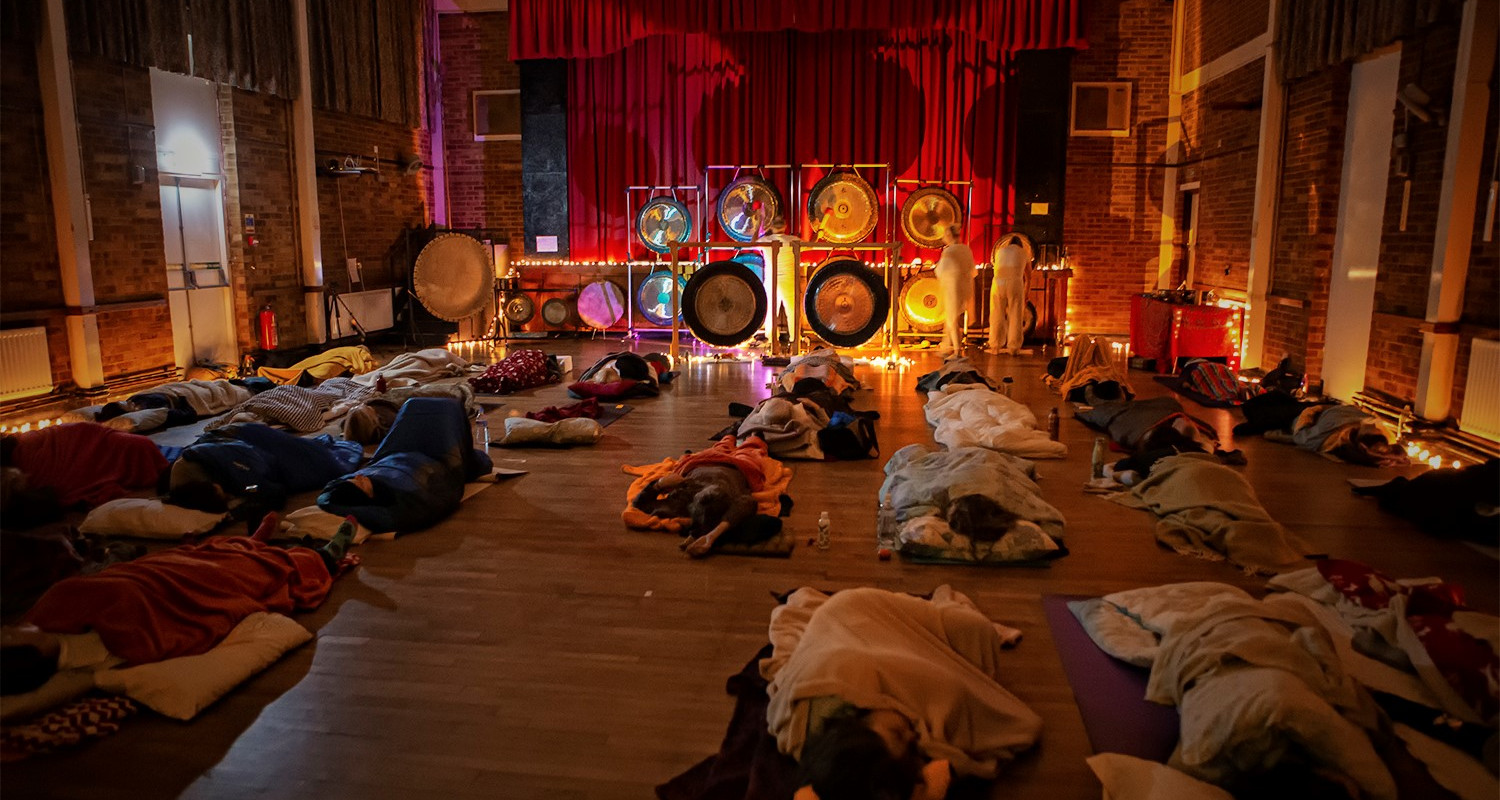 ---
Venue:
TRANSFORMATIONAL GONG BATH by B&J with 12 the sound of 12 gongs
The Old Woking Community Centre (next to Woking College)
Sundridge Road
Woking GU22 9AT
Room: Rydens Lounge

Dates: The first Saturday of every month, 5.00pm - 6.45pm

4th January - New Year Celebration - Desire of Your Heart - Tickets
1st February - Valentine's Gong Bath - Tickets
7th March, 4th April, 2nd May - Tickets
Children friendly. Free car park. 1st floor no lift.
RELAXING GONG BATH by B&J
The Holistic Center
The Barn, Wiggins Yard
Bridge St
Godalming
GU7 1HW

Dates: The first Friday of every month, 7.00pm - 8.00pm & 8.15pm-9.15pm

3rd January - New Year Celebration - Tickets
7th February - Valentine's Gong Bath - Fill Your Heart with Love - Tickets
6th March, 3rd April, 1st May - Tickets
RELAXING SOUND JOURNEY IN COCOONS
The Fitness Hangout
1b Douglas Drive, Off Catteshall Lane
Godalming
GU7 1JX
Dates: Sunday 1.00-2.00pm and 2.30-3.30pm
19th January - New Year Celebration -
1pm - Tickets, 2.30pm - Tickets
23rd February - Valentine's Gong Bath -
1pm - Tickets, 2.30pm - Tickets
RELAXING GONG BATH WITH THE SOUND OF 12 GONGS & OTHER INSTRUMENTS by B&J
Westcott Reading Room
Institute Road
Westcott
Dorking
RH4 3NP

Dates: The third Saturday of every month, 1.00pm - 2.00pm
28th December - Cleansing old and preparing for a new year - Ticket
18th January - New Year Gong Bath - Ticket
15th February - Valentine's Gong Bath -Tickets
21st March, 18th April, 16th May - Tickets
Children friendly. Disabled friendly. Free car park.
I'M THE LIGHT OF MY SOUL - VALENTINE'S MORNING GONG BATH
Miles Green Farm, The Bisley Yurt
Queens Road
Bisley
GU24 9AR
Dates:14th February, Friday 11.30-12.30pm - Tickets
CHAKRA BALANCING GONG BATH
Studio 42
Chatham Place
Reading
RG1 7AR

Dates: 22nd February, Saturday 3.30pm - 4.30pm - Tickets
Children friendly. Disabled friendly.
ONE-DAY SELF-DISCOVERY retreat with SOUND WORKSHOP
Young Living Europe
Building 11, 566 Chiswick High Road,
W4 5YS London

Dates: 9th February, Sunday 10am-5pm- Tickets
ALL NIGHT GONG BATH - The Puja Night
Old Acton Library
Acton High Street
W3 6 London
Dates: Saturday 9.30pm - 7am
11th January - Say Good Bye to the Old & Call in the New - Ticket
15th February 2020 - Fill Your Heart with Love - Ticket
Please arrive a minimum of 15 minutes early before each event. Late-comers will not be allowed in once the event is underway.
As places are limited it is advisable to Book Online to guarantee your place.
The option to Pay on the Door will require an additional admin fee of £5 and will be possible if there are any free places available only.
Please contact us for further details.
Cancellation Policy:
Tickets must be booked in advance through I Feel Good Therapy Clinic online. By purchasing a ticket you accept these Terms. Tickets cannot be exchanged or refunded unless the event is cancelled by I Feel Good Therapy Clinic* but you are welcome to transfer your place to another person.
If the event is cancelled we will organise a transfer of funds to you between 14-21 days from the date of the event.
*except Studio 42 and The Fitness Hangout.
Contraindication & Precaution:
There are a few contraindications like the first trimester of pregnancy, serious mental health problems, epilepsy/seizure.
Precaution:
If you have peacemaker, or recently you are after the surgery, you should speak to us before you purchase your ticket.
Children under 10 years old, please speak to us before you purchase the ticket.
Testimonials:
"It was the first time that I participated in a gong concert. I had beed skeptical but during the event I changed my mind completely. It was a wonderful experience! I love it! The sounds were everywhere and I felt relaxed and alert at the same time. I am definitely going again and I do recommend it to anyone". Magda
'Where YOU TWO go light and magic happens '. I love your sound bath so much. When you sang today, I thought honestly it was a cd with a lady singer! Then Jarek said it was you Beata Dzwigoł after the workshop! I as totally blown away. I can't express how awesome you guys are! Thank you for the years we have spent together and many more to come! Love you" L.F.
"I attended the Gong Bath last Sunday that you held at The Fitness Hangout and I wanted to thank you. I felt so much energy around me and felt at peace after the session and a few days after. It really helped me through my week with my feelings of stress and anxiety that I have been having". E.M.
"Chakra Balancing Gong Bath, wow! I really find it hard to explain how I feel right now! Such a fantastic feeling of warm energy passing/flowing through my torso. Just feel so mega happy right now! Want this feeling to last and last! I have been to many gong bath's over the years and I have now totally fallen in love with this Couple Beata & Jarek Dzwigol. They design and intuitively playing the Gongs. They play what's in the room in the form of energy that's already there but also the energy that each participant bring. It might sound strange to you but it totally works! These Chakra Balancing workshops are totally unique and I am so grateful for this experience. Thank you, thank you"
Lilli Villmo Fearns, Yoga Studio42
"Like me, when you hear the words gong bath, you may think you need to bring a loofer and sponge but of course this is not the case but like a bath, you do lie down in the room and let the healing sounds of the Gongs wash over you. As we are made up of 60'% water you can imagine how the music runs through you like ripple and waves.
Bringing the ancient healing sounds of the east and sound therapy to Surrey is the masterly Jarek Okide Soul. Like a great conductor knows about pianissimo and crescendo, Jarek Oxide Soul is a truly great maestro striking the gong with masterly strokes, still having taken his masters twice Jarek makes sure he gives great service to the gong – he truly is the Gong Master. As Jarek says "You don't play the gong the gongs play you" so not only is Jarek a great conductor but also a great composer as it is true the feeling, the sound the interpretation he brings is stunning the sound seems to run through him he is at one with the gongs but his skill and expertise cannot be underestimated.
As we lay on the floor of the cozy Holistic Centre in Godalming we marveled at the 4 gongs that Jarek had set up, a mixture of Sun, Mars, Neptune and Symphony gongs, and we await the great conductor to take his position. Jarek takes newcomers through the history of gongs and how they date back to the bronze age and how people have reacted with stories and results of people who have benefitted from Gong bath and how it has relieved many ailments and conditions just being in this immersive sound. We couldn't wait.
As we closed our eyes the sound seemed to come at you at what single sound then it has a wonderfully layered quality due to Jarek's skill, some people in the group called it other worldly, indeed it does sound like a sound you may hear on another planet or from an alien life form but it also sound mystical, a little eery like a kind of soundtrack and also very eastern you can hear many things, You may find you have silent tears roll down I did my nostrils felt clearer, head felt less muzzy, felt my breathing deepen, felt very relaxed felt the vibration in my back too, felt nice and warm and warm after my dad said he felt his sinuses open and clearer on the night. The day after myself and my mum felt a little achy around the arms and back, but then felt like I'd had a holiday lying on the beach and that my legs had been given a lovely massage all muscles relaxed and hard to explain but like all the tension between muscles were gone like cells had been cleansed in some way..Jarek played his heart and soul out for 1 hour and I wish it could have gone on longer I can see why he has so many regular and those who also go to his puja all nightery events. Gong Shower, Gong bath I can see how they can become an addiction I just can't wait to dive in again and immerse myself again". Suzanne
"Saturday afternoon was very interesting and different to anything I have experienced before.
I have had problems with my left knee for quite a while and during the gong bath it became more painful. Since then it it is much better it doesn't hurt and I can walk easier. OK I was hoping it would help the skin condition but I am happy with the result with my knee". Lynn C.
"What a fantastic spiritual experience. My whole body felt so alive, it was truly magical. I would definitely recommend it. Thank you so much." Lynn H.
"I had d best experience ever ... Already talked to few friends ... They are joining us in April for gong meditation. I felt awesome, like at home! But was really tired & thirsty all evening. Sometimes it is hard to realize it's time to move on. And like you said to me yesterday time to finish that thing from 3 years ago thank you ..." Iwona
OTHER EVENTS RELATED TO GONGS:
ALL NIGHT GONG BATH - THE PUJA & GONG COURSE & SOUND THERAPY 1:1