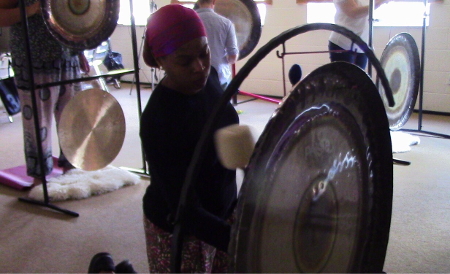 Certified Full Gong Practitioner Training
After several requests, we pleased to be able to offer a certificated, Gong Practitioner Training course for anyone who would like to be able to play the gong proficiently and with confidence as a spiritual tool for healing and well-being. 

As well as the theoretical and practical experience we will also focus on the spiritual aspect, "playing from your soul, joining with the universe".

To ensure you get the best possible teaching and learning experience we will limit the groups to 12 people. The training will be under the supervision of two Gong Masters: Beata Dzwigol and Jarek Dzwigol. 

We want you to feel confident and be able to offer intuitive and safe gong playing, so you will also have ongoing mentor support throughout and after the course to ensure you and your future clients well-being.
---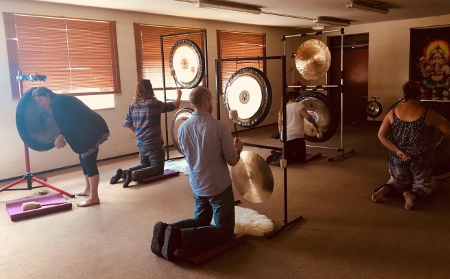 Course Structure
The course consists of four, two - day workshops run over a period of 6 months.
You will also have to complete case studies and an essay to receive full accreditation.
Part one of the course is a basic introduction and can be taken on its own.

A certificate of attendance will be awarded to those who complete the two days.
Part one is open to anyone who is interesting in Gongs and Gong playing and would like to know more before committing to the full training.

Over the two days you will get plenty of hands-on gong playing practice. In addition, you will also receive a further 2 hours practice and tuition after the course and the option to experience playing in the upcoming Puja.
---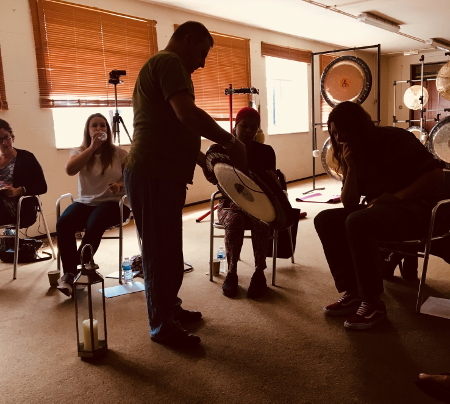 Fees


The cost for Part 1
(Introduction to Playing the Gong) is £240 for the two days.

The cost for each next Part (2-4) is £240.


£50 non - refundable deposit will secure your place.
Please contact us for further details and payment
---
Venue:
'Come to the edge', he said. 'We can't Master. We're scared'.
'Come to the edge', he said. 'We can't. We're scared'.
'Come to the edge', he said. They came. He pushed. They flew'.


FULL GONG PRACTITIONER TRAINING includes 4 modules.
INTRODUCTORY GONG PRACTITIONER TRAINING
Module 1/ Dates: 14th September 10am - 5pm & 15th September 2019, 10am - 4pm
INTERMEDIATE GONG PRACTITIONER TRAINING
Module 2/ Dates: 12th October 10am - 4pm & 13th October 2019, 10am - 4pm
Module 3/ Dates: 9th November 10am - 5pm & 10th November 2019, 10am - 4pm
Module 4/ Dates: 14th December 10am - 5pm & 15th December 10am - 4pm - GRADUATION WEEKEND - course review & new practices
ADVANCED GONG PRACTITIONER TRAINING
Dates: 18th January 10am - 5pm & 19th January 2020 10am - 4pm £240 to be paid separately
Venue: Woking/Guildford, Surrey
The cost of the course is £960 (4 weekends course), with a non-refundable £100 deposit to secure your space. The balance is payable before 14th August 2019.
We are also able to offer a monthly payment plan – this requires a £240 deposit, then 3 monthly payments of £290 (each paid one month before the following training), totaling £1110.
EARLY BIRD: Pay by 14th July 2019 £820 (4 weekends course).
The training fees include all tuition, hands out, certificate and classroom observation hours.
Spaces are strictly limited. To apply for a position on the training, please email us on info@ifeelgoodtherapy.com for an application to register your interest. If your application is successful, we will contact you to take your deposit and confirm your acceptance on the course. The payment can be done by bank transfer or credit/debit card.
Email us to receive more information and I Feel Good Therapy Full Gong Practitioner Training Full Refund Policy.
1:1 TUTOR available

TESTIMONIALS:
"After attending a few gong baths and Puja, I was fascinated by the Gongs in general and how gongs could bring up different emotions in me.
Needless to say, I was delighted when I heard that Beata and Jarek would be organizing a gong practitioner's course. I signed up immediately. I was nervous at the beginning of the course, not sure what to expect. But our teachers were nothing but excellent. They put all the students at ease and poured they heart and soul into teaching us. The depth of their knowledge is outstanding! Of course, we had a go at playing the gongs and it was amazing to see how different people played the gongs differently.
I learned a lot in the first part of the gong practitioner's course and I can't wait to complete the second part of the course. I look forward to helping heal others through sound baths, and I hope one day I can learn to do the 'sweeping/dancing motions Jarek does when he plays the gong! I encourage all who are interested in sound healing therapy to sign up to the next course being organized. You will be pleasantly surprised". Winni
"I am blessed to have been a part of such a wonderful day. From the very start, I immediately felt part of the group, learning together with a common interest with a mix of amazing different individuals. Not only was I having a fantastic enjoyable time, but looking around the room all were also enjoying it too.
The lesson plan was thorough and well explained/demonstrated. History, facts and background understanding was provided before we each were given the opportunity to play by ourselves. With plenty of stunning gongs to go around, we really did feel spoilt to be allowed to touch such special and beautiful instruments. By the second part of the course, we were playing with rhythm and style. To finish off, we took turns to play a proper gong bath for our classmates.
What an amazing experience. I loved every minute of it. Many thanks to our teachers for setting up a perfectly well structured and welcoming experience. A huge thank you to all". Kelly
"From my first Gong bath with Jarek and Beata I was hooked on the healing magic of the gongs. The moment they announced the Gong Practitioner course I signed up. What an amazing two days. Learning how to play the gongs was an incredibly moving and healing experience. We got plenty of playing time as a group, one to one, then on our own so we could hear what we sounded like. At the end of the first day we got to play a mini Gong Bath with all the different gongs and on the second day we again played alone as we gave a classmate sound healing. Even as I listened to another student play I was receiving healing myself.
Jarek made learning about the technical side of gongs interesting. His passion shows through in his teaching and playing. He has his own magical dance as he plays the gongs. One day I hope to play as fluidly as he does. Beata was amazing as she supported us all, teaching us in a loving, helpful way. Never putting us down for not knowing how to play and never saying we must play a certain way. She supported developing our own style through the different techniques.
There is a lot of practice time during the workshop and we are also given another two hours of practice time after the course and an option to play at the next overnight Gong Bath called a Puja.I felt so much internal physical and emotional healing at the end of the workshop but most important to me I had fun.
I promise you if you have any interest in learning to play the gongs this course will not disappoint. I have already signed up for Level Two". LT
OTHER EVENTS RELATED TO GONGS:
ALL NIGHT GONG BATH - THE GONG PUJA & GONG BATH & SOUND THERAPY 1:1
xxxxxxxxxxxxxxxxxxxxxxxxxxxxxxxxxxxxxxxxxxxxxxxxxxxxxxxxxxxxxxxxxxxxxxxxxxxxxxxxxxxxxxxxxxxxxxxxxxxxxxxxxxxxxxxxxxxxxxxxxxxxxxxxxxxxxxxxxxxxxxxxxxxxxxxxxxxxxxxxx
ONE - DAY WORKSHOP AND CHARITY GONG BATH Sunday 7th July 2019 from 9.30am to 7.00pm
Are you drawn to Healing Sound?
Join us and Experience The Transformational Power of The Gongs with Aidan McIntyre
We invite you to a One Day Gong Workshop with Worldwide Gong Master Teacher Aidan. He travels and teaches internationally and this is his first time in Woking, Surrey!
This workshop is open to all levels, everyone interested in Sacred Sound will benefit.
It makes no difference if you have already studied gongs or not, who you have studied with if you are self-taught if you play the healing gong, bowl or conch shell for self-healing or for others or you would just like to learn to play: JOIN US!
Aidan McIntyre will be assisted by Beata & Jarek Dzwigol and will share his knowledge, experience and expertise with you.
After the workshop, in the evening we will take you on a Healing Journey during The Charity Gong Bath.
THE GONG WORKSHOP
During this unique One-Day Gong Workshop, you will learn about The Healing and Transformational Power of the Gongs, Singing Bowls and Conch Shell.
We will share with you: the mastery of the healing gong, both the practice and theory, how to use sound therapy in a Gong Bath and in other complementary therapies.
You will also get to know the different gongs and mallets and how to use them in therapy, as well as how to plan your own Gong Bath.
The workshop will be very much hands-on experience and over the course of the day you will learn how to play alone; how to play for each other; and how to play in a sound bath under supervision of Aidan, Beata and Jarek.
Aidan has worked with autistic and special needs children as well as in hospices and hospitals. He will share with us his great stories about the impact and the healing power of his sound therapy on his clients.
For Beginners: you will learn the art of the gongs
For Experienced Gong Players: you will dive deeper into the knowledge of the power of the healing gong.
You will meet like-minded people, meet old friends, make new friends and experience deep healing.
All participants will receive a certificate of attendance.
BETWEEN HEAVEN & EARTH The Charity Gong Bath for The Fountain Center (cancer charity) in Guildford
After the all-day workshop you will be immersed in the cleansing, rejuvenating vibration of The Gongs and other instruments for 45 minutes. This will be The Healing Gong Bath.
 Further Information
We ask you to please bring your own yoga mat, blanket and a pillow so that you can lie down comfortably during the Gong Bath.
Ticket Prices
GONG WORKSHOP & CHARITY GONG BATH
Sunday 7thJuly, 2019 9.30am-7.00pm

TICKETS: Standard Price £129.00*
EARLY BIRD: Book by 7th June £109.00* 
Charity Gong Bath & Light Lunch is included in the Ticket Cost.
*for the best price (no commission), please contact us directly on info@ifeelgoodtherapy.com, we will forward you the relevant details.
BETWEEN HEAVEN & EARTH CHARITY GONG BATH is accessible to everybody
Sunday 7thJuly 2019 5pm-6.15pm arrival 4.45pm

TICKETS: Standard Price £25.00

VENUE
The Old Woking Community Centre (next to Woking College) 
Sundridge Road 
Woking 
GU22 9AT 
Free car park. Ground floor. Suitable for a wheelchair. Access to the toilet.
FACILITATORS
Beata Dzwigol & Jarek Dzwigol
Gong Masters Teachers
Aidan McIntyre
Worldwide Gong Master Teacher
www.gongmastertraining.co.uk
For more information contact Beata 077316 73759 or Jarek 079356 051585 or email info@ifeelgoodtherapy.com, please.
Aidan McIntyre
is a Worldwide Gong Master Teacher, Singing Bowl Master and Sound Artist who has over twenty-six years' experience in the fields of Sound Therapy and teaching.
He is an incredibly humble and loving person, who is calling himself as The Healing Gong Player.
Aidan has for many years traveling all over the world teaching the art of the gongs with Don Conreaux. He has held workshops in Argentina, Australia, Austria, Brazil, Croatia, Dubai, France, Greece, Hong Kong, India, Italy, Poland, New Zealand, Portugal, Slovenia, Uruguay, USA, Denmark, German, Ireland and in many other countries.
He has worked with autistic and special needs children as well as in hospices and hospitals. Aidan gives individual therapy sessions using Singing Bowls, Gongs and other instruments, as well as performing Gong Baths and Sound Journeys for groups and individuals.
Along with Don Conreaux he has run and continues to run the annual 10 day Gong Master Training over the world and in Hawkwood College in UK.
Aidan joined the College of Sound Healing in 2007 and teaches the Himalayan Singing Bowls module for them. After living in San Francisco for thirty years he now lives in Gloucestershire, England. Always and forever a student of sound he considers that the Gong of Peace is at the heart of the global sound healing revolution.
Beata & Jarek Dzwigol
are Gong Masters Teachers in Surrey, Complementary Therapists and Reiki Masters, they are passionate about Life, Healing, Sound and Well-being.
They have been trained by Aidan McIntyre, Don Coreaux, Tom Solton, and Abby del Sol many years ago. They are exceptionally humble, honest and positive individuals.
In 2012 Beata and Jarek from a basis of pure passion created a small, family complementary clinic in Guildford - I Feel Good Therapy Clinic, where, through sound, holistic therapies and courses many people have found themselves in a better place in life which has enabled them to achieve their goals.
Beata and Jarek play gong baths and all-night gong baths called the gong puja on a regular basis in Surrey, Berkshire and in London.
The Charity Gong Bath is in aid of The Fountain Center in Guildford. The Fountain Center is a charity for cancer patients, their families, and carers located in St Luke's cancer unit at the Royal Surrey County Hospital, where Beata volunteered as a complementary therapist for 6 years.
The Fountain Center offers advice, counseling and a huge range of complementary therapies, in a calming and relaxed atmosphere for their clients. www.fountaincentre.org