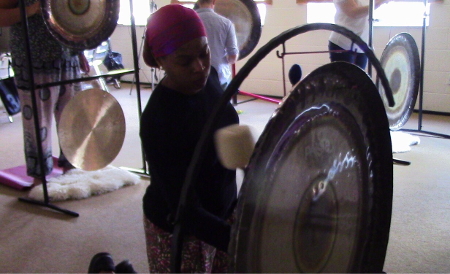 Certified Full Gong Practitioner Training
After several requests, we pleased to be able to offer a certificated, Gong Practitioner Training course for anyone who would like to be able to play the gong proficiently and with confidence as a spiritual tool for healing and well-being. 

As well as the theoretical and practical experience we will also focus on the spiritual aspect, "playing from your soul, joining with the universe".

To ensure you get the best possible teaching and learning experience we will limit the groups to 12 people. The training will be under the supervision of two Gong Masters: Beata Dzwigol and Jarek Dzwigol. 

We want you to feel confident and be able to offer intuitive and safe gong playing, so you will also have ongoing mentor support throughout and after the course to ensure you and your future clients well-being.
---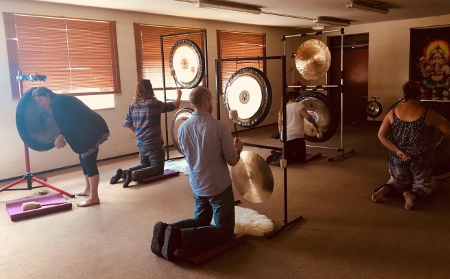 Course Structure
The course consists of four, two - day workshops run over a period of 6 months.
You will also have to complete case studies and an essay to receive full accreditation.
Part one of the course is a basic introduction and can be taken on its own.

A certificate of attendance will be awarded to those who complete the two days.
Part one is open to anyone who is interesting in Gongs and Gong playing and would like to know more before committing to the full training.

Over the two days you will get plenty of hands-on gong playing practice. In addition, you will also receive a further 2 hours practice and tuition after the course and the option to experience playing in the upcoming Puja.
---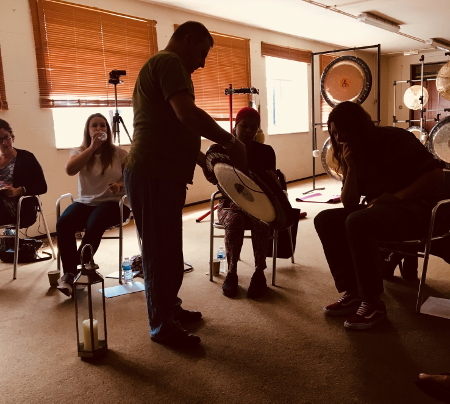 Fees


The cost for Part 1
(Introduction to Playing the Gong) is £240 for the two days.

The cost for each next Part (2-4) is £240.


£50 non - refundable deposit will secure your place.
Please contact us for further details and payment
---
Venue:
Woking or Guildford, Surrey


Dates:
INTRODUCTORY GONG PRACTITIONER TRAINING
Dates: 28th March 10am - 5pm & 29th March 10am - 4pm
INTERMEDIATE GONG PRACTITIONER TRAINING
Dates: 31st March 10am - 5pm & 1st April 10am - 4pm
Dates: 13th April 10am - 5pm & 14th April 10am - 4pm
GRADUATION WEEKEND - course review & new practices
Dates: 15th April 10am - 5pm & 16th April 10am - 4pm Cost
ADVANCED GONG PRACTITIONER TRAINING
Dates: 20th June 10am - 5pm & 21st June 10am - 4pm
1:1 TUTOR available

TESTIMONIALS:
"After attending a few gong baths and Puja, I was fascinated by the Gongs in general and how gongs could bring up different emotions in me.
Needless to say, I was delighted when I heard that Beata and Jarek would be organizing a gong practitioner's course. I signed up immediately. I was nervous at the beginning of the course, not sure what to expect. But our teachers were nothing but excellent. They put all the students at ease and poured they heart and soul into teaching us. The depth of their knowledge is outstanding! Of course, we had a go at playing the gongs and it was amazing to see how different people played the gongs differently.
I learned a lot in the first part of the gong practitioner's course and I can't wait to complete the second part of the course. I look forward to helping heal others through sound baths, and I hope one day I can learn to do the 'sweeping/dancing motions Jarek does when he plays the gong! I encourage all who are interested in sound healing therapy to sign up to the next course being organized. You will be pleasantly surprised". Winni
"I am blessed to have been a part of such a wonderful day. From the very start, I immediately felt part of the group, learning together with a common interest with a mix of amazing different individuals. Not only was I having a fantastic enjoyable time, but looking around the room all were also enjoying it too.
The lesson plan was thorough and well explained/demonstrated. History, facts and background understanding was provided before we each were given the opportunity to play by ourselves. With plenty of stunning gongs to go around, we really did feel spoilt to be allowed to touch such special and beautiful instruments. By the second part of the course, we were playing with rhythm and style. To finish off, we took turns to play a proper gong bath for our classmates.
What an amazing experience. I loved every minute of it. Many thanks to our teachers for setting up a perfectly well structured and welcoming experience. A huge thank you to all". Kelly
"From my first Gong bath with Jarek and Beata I was hooked on the healing magic of the gongs. The moment they announced the Gong Practitioner course I signed up. What an amazing two days. Learning how to play the gongs was an incredibly moving and healing experience. We got plenty of playing time as a group, one to one, then on our own so we could hear what we sounded like. At the end of the first day we got to play a mini Gong Bath with all the different gongs and on the second day we again played alone as we gave a classmate sound healing. Even as I listened to another student play I was receiving healing myself.
Jarek made learning about the technical side of gongs interesting. His passion shows through in his teaching and playing. He has his own magical dance as he plays the gongs. One day I hope to play as fluidly as he does. Beata was amazing as she supported us all, teaching us in a loving, helpful way. Never putting us down for not knowing how to play and never saying we must play a certain way. She supported developing our own style through the different techniques.
There is a lot of practice time during the workshop and we are also given another two hours of practice time after the course and an option to play at the next overnight Gong Bath called a Puja.I felt so much internal physical and emotional healing at the end of the workshop but most important to me I had fun.
I promise you if you have any interest in learning to play the gongs this course will not disappoint. I have already signed up for Level Two". LT
OTHER EVENTS RELATED TO GONGS:
ALL NIGHT GONG BATH - THE PUJA & GONG BATH & SOUND THERAPY 1:1